Migrant: We Wanted To Go To Protest Rally In Minsk
10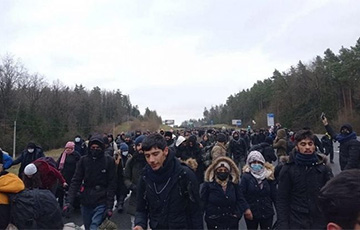 A rally of migrants was planned for November 26 in the capital of Belarus.
Kurdish journalist Sardar Sattar tweeted a video taken by a migrant at a logistics center in Bruzhi:
"Lukashenko came to us, but didn't do anything. He said we could stay in the camp, but every night the police come and force us to cross the border. We are threatened with deportation. We wanted to go to a protest on November 26 (Minsk) to ask about our rights. They wouldn't let us go."
Something about the situation of migrants in #Bruzgi camp in Belarus @SardarSattar @franakviacorka @VoicesBelarus @abdullahawez @Abdul_Matar @olga_karatch #HybridWar #MigrationCrisis https://t.co/xHfmZGubBp

— Numa (@Numa11640134) December 1, 2021