Brest Activist: Government Understands Only One Argument - Protests on Square
13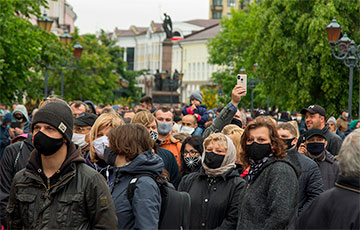 Protesters against the battery plant near Brest reacted to the news about the continuation of construction.
As it became known, the construction of the battery plant near Brest will continue. For "Salidarnasts", the situation around the scandalous construction was commented on by the Brest activist Dzmitry Bekalyuk.
- From my point of view, this decision (on the cancellation of the suspension of construction) means that since the moment of its adoption, all Lukashenka's promises given to Brest residents regarding the holding of the referendum have become invalid. The top official clearly stated, and I was personally present at that meeting (June 22 - approx ..), that there will be no commissioning work at the plant until the referendum.
During this time, the executive branch did nothing to implement the initiative.
Brest residents were brazenly deceived. If Lukashenka swears, promising that a referendum will decide the plant's fate, and then the authorities allow commissioning, then it is obvious to me that law does not work in our country.
We intend to contact the environmental departments of Russia and Poland, as well as international environmental organizations, to convey our position to them. But it has remained unchanged: this plant poses a threat to environmental safety.
The authorities took the side of businessmen close to the authorities themselves. From my point of view, now everything has fallen into place.
The government has shown what it is worth and how the interests of ordinary citizens are valued. They understand only one argument - protests on Square. And we, of course, will defend our right to safe life and health, ours and our children's.