Economic Sanctions Will Ruin Lukashenka's Red-Brown Model
70
Andrei Sannikov
29.09.2020, 13:35

42,035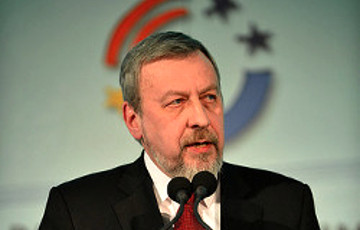 Once again about the obvious.
The question of the appropriateness of economic sanctions against the regime of insane Lukashenka is actually very simple: if there are sanctions - there is no Lukashenka; if there are no sanctions - they will continue to kill, torture and beat up girls, pregnant women, children and old people, European Belarus civil campaign leader Andrei Sannikov writes on Facebook.
Economic sanctions, by the way, include bans on arms and ammunition, bans on the supply of high technology.
In 2020, Belarusians are killed by noise grenades from the Czech Republic and rubber bullets from Poland. Lukashenka's scumbags have been armed and equipped with the help of EU countries, which have also trained them. The Internet has been blocked in Belarus with the help of American companies.
Well, how could one deprive black, olive and spotted chasteners of comfortable combat boots with steel socks, elegant gloves with knucks, rubber truncheons with metal rods? All of these so well bumps into the living flesh of the demonstrators. Expensive uniforms, helmets, shields, shotguns, balaclavas on brainless neck extensions are essential to cope with running rampant Nina Bahinskaya. As soon as she just does not calm down: she sews and sews her flags, and walks. In order to fight against her alone hundreds of millions of dollars are needed. And if there are sanctions? How one can stroke Nina down then?
Economic sanctions also include financial sanctions. It is inadmissible to deprive the collective farm economist of new income. Things have just picked up. The EBRD (European Bank for Reconstruction and Development) has pumped record loans into developing private business in Belarus. Have you noticed how this private business blossoms and how well the sole traders live? Especially in prisons.
The World Bank has allocated money simply for everything. Especially successfully - to fight against COVID-19, that is, to help the madman who consciously seeks to infect as many people as possible. And the EU is very eager to help with money to continue this murderous policy, as much as 50 million has been allocated. And they would give it, but he has gone off the rails.
I remember very well how opposition leader Mikalai Statkevich, being in prison and learning that the condition for granting a loan of the IMF at that time could be the release of him and other political prisoners, managed to pass on his statement: "Do not let them bargain with me! No loans to the dictatorship!". He made this statement inside the Lukashenka prison under unbearable pressure. I do not know anybody among those who called and calls not to impose sanctions against the dictator, who is capable of such a deed.
And Statkevich is in jail again.
The economic sanctions will also help the workers on strike. They can not just protect them, but save their lives. If there will be no sanctions with demands to stop repressions against strikers, strike committees and independent trade unions - they have no chance to survive.
The economic sanctions will finally bury the myth of the resilient Lukashenka economy, help to bring down this red-brown model that allows to get rich only for the ruling clique.
The absence of economic sanctions from the West will testify to the fact that they do not take our situation seriously and are ready to wait until Lukashenka squashes the protests in order to return to a mutually beneficial business with the dictator.
The presence of sanctions does not mean there is a strategy, but without sanctions there can simply be no strategy against the dictatorial regime, which has crossed all the red lines.
And last but not least: the political prisoners cannot be released without economic sanctions. Neither Siarhei Tsikhanouski, nor Mikalai Statkevich, nor Pavel Seviarynets, nor Viktar Babaryka, nor Yauhen Afnahel, Pavel Yukhnevich, Andrei Voynich and many others, the number of which will grow and criminal cases against them will take the most fantastic shape.
I know people who at different times opposed the imposition of sanctions against the dictatorship. They helped Lukashenka to stay in power and build his fascist occupation regime.
They are the people with reduced social responsibility to Belarus. As a rule, they had a share with those foreign businessmen, to whom Lukashenka's dictatorship brought considerable profits.
In other words, the helpers of these business and political moneymakers ratted from the people of Belarus.
I really hope that their time has gone.