Over 600 Athletes Signed a Letter in Favor of Lukashenka's Resignation
10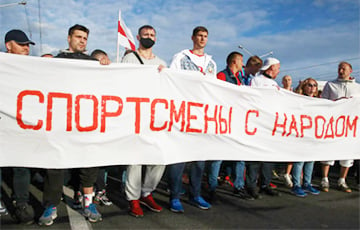 The sports community has issued a statement against the violence.
According to Tribuna, more than 600 athletes signed a letter in favor of Lukashenka's resignation and called for an end to the violence.
Here is the text of the statement.
"We, the undersigned, being people involved in Belarusian sports, participating in national championships and championships of the country, as well as defending the interests of the Republic of Belarus in the international sports arena, categorically condemn numerous facts of falsification of the election results of the President of the Republic of Belarus, as well as the manifestation of gross violence by the security forces against peacefully protesting citizens.
We all believe that there are worthy people and real professionals among law enforcement officers. Nevertheless, it is obvious that a number of employees gave orders, and other employees carried out criminal orders to use unjustified, often disproportionate, force against citizens of the Republic of Belarus.
Guided by the Constitution of the Republic of Belarus, its legislation, we, being part of the people of the Republic of Belarus - the source of power, the undersigned demand:
1. To recognize the President of the Republic of Belarus's elections held on August 9, 2020, invalid due to numerous facts of falsifications and pressure on election commissions. We demand that repeated elections of the President of the Republic of Belarus will be held in accordance with all international standards, as well as the resignation of the current composition of the CEC with bringing them to responsibility stipulated by the legislation.
2. To release all citizens detained during the demonstrations and not involved in illegal activities.
3. Free and rehabilitate all political prisoners.
4. Stop the illegal activities of law enforcement officers and conduct checks on the legality of their actions, starting from the moment of collecting signatures for nomination for the presidency of the Republic of Belarus.
5. Identify and punish those responsible for the beatings and brutal abuse of citizens detained during peaceful demonstrations. The leaders of the security forces responsible for the violence must resign.
6. Provide full-fledged medical, psychological, legal, and material assistance to all victims of illegal actions of representatives of power structures.
In case if information appears about attempts of pressure, threats of dismissal, or violations of the rights of sports representatives who signed this letter, all athletes will act in solidarity, up to a possible refusal to play for the national team of the country or refusal to organize international and national sports events. In addition, these facts will immediately be sent to the IOC, international sports federations, and committees," the statement says.