Palina Sharenda-Panasyuk: Lukashenka Failed Spectacularly Before the Eletions
29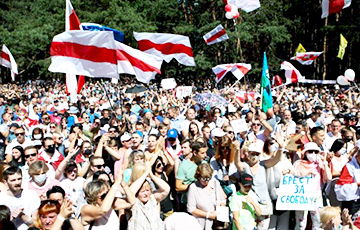 Fortune is finally on the side of Belarusians.
The rallies of the joint team of presidential candidate Sviatlana Tsikhanouskaya broke all records high in the Brest region - 10 thousand people in Baranavichy, about 20 thousand in Brest and 5 thousand in Biaroza. Palina Sharenda-Panasyuk, the activist of the European Belarus civil campaign from Brest, told Charter97.org, what motivated her countrymen to leave their couches and speak out loud.
- I expected a great activity at the rallies. Thanks to social networks and independent websites, people can see how many people come to meetings in other cities. It' s a kind of competition and one can notice it in the chats: people report the number of participants in Minsk and, meanwhile, Brest does not want to lag behind.
Of course, there are now chats Countries for life, coordinated by the Telegram channel named after Siarhei Tsikhanouski. Almost every city has its chat room, even small Ivatsevichy, Biaroza and Kobryn. Thanks to these channels, people are online coordinating actions. This is a great achievement in new technologies.
- Lukashenka lost his popularity long ago. However, why do so many people join in the campaign this year?
- Of course, these "competitions" take place on a wave of protest moods. Why is it so? It was a very long process. Emotions accumulated, and now there is a real explosion. Again, thanks to new technologies, Belarusians have seen that there are many of them.
Belarusians have found allies, like-minded people. Undoubtedly, this process was not so rapid: anger towards this mediocre, brazen, blatant power was accumulating. If we mean Brest, the rallies of the previous years played a big role in awakening people.
- Do you mean those against the construction of the battery plant near Brest?
- Not only that! If we talk about Brest, the movement for changes began in 2017. The rallies of angry Belarusians and feeding pigeons were exercises in protesting. Other cities have also observed and adopted methods of Brest. Today, all these local actions unite.
Brest citizens were pioneers, who showed that we should take a stand. Now there are hundreds of thousands of people all over Belarus, who are not afraid to take to the streets.
- There were many paratroopers at the rally in Brest. What are the moods among the Belarusian military and law enforcement officials?
- You know, I don't talk to law enforcers. Judging by conversations I hear, they also do not agree with the current situation and claim they will not oppose people. When I was at the picket in Biaroza, paratroopers approached us and said they were for the people and changes.
- Are the state employees ready to go against the system?
- For 15 years now, the same people have been members of election commissions. There are 70 thousand of them all over Belarus. The core remains unchanged. Therefore, the main question is what they will do this year.
I am sure that ordinary state employees share the same feelings as the whole society. What should we do with the core that falsifies? We should talk to them. However, they will be subject to lustration in the future.
- A few days left until the elections. What should we do to ensure the victory?
- There is a big protest spark, and every time more and more people join the rally. On Election Day, we should not only vote or put on white ribbons but also defend our victory. We should take to the central streets of the cities after the voting and all of us should unite there and declare Lukashenka's defeat. He failed spectacularly before the elections. The candidate who accumulated this protest - Sviatlana Tsikhanouskaya - won.
Everyone eagerly awaits new, fair, European elections. All smart, decent, talented professionals who had to leave should return from emigration.
It will initiate a normal process and a normal election campaign. Indeed, all Belarusians eagerly await the opportunity to take part in real elections, debates, and hear different opinions. The society has simply missed the elections, where their vote makes a difference.
I told at the picket in Biaroza that history gave us a chance. We failed on cold days of spring, winter. Now there are 97% of us, the free people of Belarus. Fortune is finally on the side of Belarusians.
There may probably be no more favourable conditions for defending our victory and seeking freedom. Therefore, one should take this chance and be worthy of it. Then we will be a nation worthy of freedom.