Volha Nikalaichyk: Belarus Knows Lukashenka Is About to Leave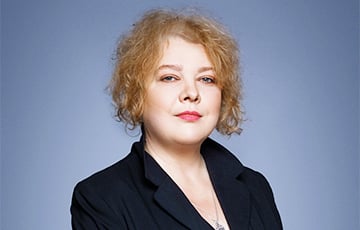 It's time to cover the moustached insect with a glass and take it to The Hague.
More than 70 thousand people came to a rally-concert of presidential candidate Sviatlana Tsikhanouskaya on July 30 in Minsk. Before that, rallies of many thousands were held in dozens of cities in Belarus. The largest ones were in Minsk, Vitsebsk, Homel and Babruisk.
Charter97.org discussed with a well-known film director and public activist, Volha Nikalaichyk, the situation in the country on the eve of the presidential elections.
- A week is left till the elections. Why is it important to make a final effort?
- This is not the last, but a new one. Film directors usually say not "your last film" but " a new one". The last one does not exist. Now it's the moment when the whole Belarus has realized that Lukashenka is not a variant. The Belarusians have awakened.
Once Minsk saw what was happening in other cities, it was the right moment to gather in the capital on July 30. I attended the first rallies of Sviatlana Tsikhanouskaya and saw how many people joined them. Social networks immediately burst with comments: "Are we worse than Homel or Brest, or even Rechytsa?" People's solidarity has spread. People are no longer afraid of anything.
All social networks are full of jokes about Lukashenka. People see there are many of them and all this makes sense. They see such meetings work. Solidarity has gained strength. Belarus has turned into power.
People try to overthrow an old collective farmer and take important decisions. Belarusians now face a great choice: to be movers and shakers or slaves. Our beautiful Belarus has chosen the first option. Those who support Luka (Lukashenka) are the artefact of the past; they are just a shadow that fades away. Belarusians feel responsible for the future, their children, their country.
I would like to urge all Belarusians to come to the rallies of Tsikhanouskaya, sing songs and stand for freedom in Belarus. Encourage all law enforcement officials to take the side of the people. Try to reach them, find the words.
If all women are arrested, others will take their place. My niece, who has intentionally come to Belarus from Moscow, children of Veranika Mishchenka and hundreds of thousands of other beautiful Belarusian women and men will take a stand. Belarus has made its choice.
The authorities make me angry every day. Sometimes I just go crazy that I cannot approach Lukashenka and tell him everything. I get an itch to give him a slap for what he's doing.
- Are things going bad for him?
- Things he's been doing lately indicate he's scared to death. He's acting like a cornered moustached insect that needs to be covered with a glass and taken to The Hague. It can barely move.
70,000 people on Bangalore Square is just a warm-up. The fact is that not all Belarusians can join in every time. People are waiting for the election day to rise a huge wave. Now the most active part of the society speaks out. Many people call me and say that they will join in on August 9 and even the 10th. Everyone is waiting for the decisive moment.
Everyone needs to step up on this day, August 9. Our first demand is to change the power. Our second demand for him to resign! The third is the elections without Lukashenka. That is, we should drive him to the border so that the Hague could return him handcuffed.
We still have a week. Many men I know are already ready. They're ready to rush to the Square.
Some people say we should hurry because Lukashenka's arm has recently been bandaged. Of course, he hasn't been well for a long time. One can see that he drags his legs. He is a fat, scared and impudent person. I'm surprised he's had a coronavirus at his age and hasn't passed away.
We should completely ignore him. He's not the one who decides. Streets of Minsk and other cities take the floor. Lukashenka must face the most severe punishment for his crimes. And he will.
- Will his entourage surrender him if many people take to protests?
- He knows he has no future here. Now all the people are rising against him. Lukashenka has no options to manoeuvre.
His son (Viktar - editor's note) has a team. They assess the situation. I think they're already developing options for a retreat or even escape.
He has no place to manoeuvre, no economic arguments and prospects for the people. Nobody listens to things he says. Everyone's just laughing or spitting. Every day the number of us is growing.
People put aside their doubts. People are longing for the final protest on August 9. But still, it has to be well organized. We should save energy. Now we need to act wisely.
- What does it mean? What can be the plan of victory?
- It will be available as soon as we have another government, another parliament and we will be completely free. Now we take phase one - liberation from the dictator. There will be many phases. We've already overcome the phase of awakening.
I imagine lots of people take to the streets of Minsk on the election day. Lukashenka will turn off the Internet, but one can record everything. It will be possible to send them, maybe somebody will be able to leave the city by car for the Internet to work. We need to find such places to ensure the work of networks.
I'm sure that people need to stay near the precincts. There should be observers, though unofficially (anyway Yermoshyna will not let more than five people in). We should gather near the precincts and wait for the results. After that, do not leave the city. I mean, we just have to stay outside. Only those, who have health problems, can stay home.
Everyone should take to the streets with backpacks - like people who intend to conquer a mountain. They pack everything they need. We should do the same as we are heading to the top of our liberation.
By the way, don't forget the old phones that work fine without the Internet. Take the contacts of all major media: Charter-97, Dozhd, Deutsche Welle, Belsat, Radio Svaboda, etc. We need every Belarusian to be in touch.
We just need a bottle to pour water in. We need matches if we have to light a candle to commemorate someone or just see something in the dark. That is, we go to conquer the top of Belarusian freedom. We have to be well prepared. We have to think it through. We are not going back, we just have no right to go home until this moustached bastard escapes.