The Action of Solidarity with Protesters in Belarus Was Held in Kyiv
3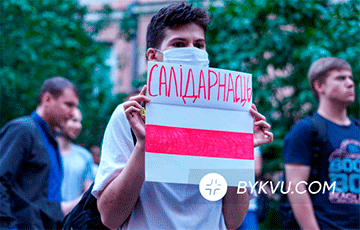 Ukrainians and Belarusians gathered at the Embassy of our country.
In the center of Kyiv, dozens of citizens of both came to the meeting. They chanted the slogan "Long live Belarus!".
Protesters at the Belarusian Embassy demanded the publication of the voting protocol.
A large screen broadcasted footage of OMON beating protesters in Belarus, and flowers were carried to the Embassy building.
On Tuesday, more and more people come to meetings in the Belarusian capital. Protesters also gathered in the center of Brest.