NEXTA Calls On Belarusians To Take To Central Streets In Their Cities
38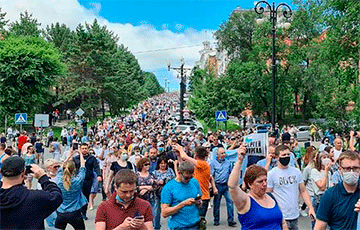 The blogger announced the action to start at 7 p.m.
After the refusal to register the two most popular presidential candidates, the election game for Belarusians actually ended. People are indignant, writes the NEXTA Telegram channel.
In just a few hours since the launch of the survey, more than 54 thousand people expressed their willingness to take to the streets so that the authorities saw real discontent and real protest. A sincere protest, demanding the truth and, of course, freedom. Freedom from tyranny and rudeness, which has been ruling in Belarus for 26 years. Freedom from poverty and the inability to find a job with a decent salary. Freedom from the personal convictions of the Cockroach, which for some reason become the course of the whole state, which goes deeper into the quagmire of a systemic crisis.
Belarusians demand:
- immediate and unconditional release of all political prisoners
- the resignation of the entire leadership of the CEC
- immediate resignation of Lukashenka
- holding fair elections
Therefore, today at 7 p.m. Belarusians go to the main streets and avenues of their cities in order to loudly and openly tell the illegal authorities everything they think about them. The unity of pedestrians and drivers - claps and horns. Previously, people have already shown that they are ready to openly take to the streets.
Important! Message your evening plans to your local Telegram and Viber chats, tell your friends about them, and come along. Us 97%!
Constitution of the Republic of Belarus.
Article 3. The people are the only source of state power and bearer of sovereignty in the Republic of Belarus.
Article 33. Everyone is guaranteed freedom of opinion, belief and their free expression.
Article 35. Freedom of assembly, rallies, street processions, demonstrations and pickets that do not violate the rule of law and the rights of other citizens of the Republic of Belarus is guaranteed by the state.
July 14, 7 P.M.
Central streets and avenues of your city
The power begins to be returned to the people!