Freedom To Heroes!
18
"European Belarus"
12.06.2020, 14:59

72,891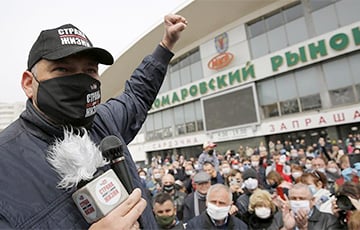 A change of power in Belarus is inevitable.
Sasha is in panic. He knows about his real rating and is afraid of losing power. Therefore, bloggers, activists, members of initiative groups of independent candidates are being detained all over the country. Therefore, Viktar Babarika, Siarhei Tsikhanouski, Mikalai Statkevich, Pavel Seviarynets, Maksim Viniarski and other activists, members of Sviatlana Tsikhanouskaya and Viktar Babarika's initiative groups have been jailed, the press service of the civil campaign "European Belarus" writes.
He expects the protests to stop after the arrest of prominent leaders. He is mistaken.
Seviarynets, Statkevich, Tcikhanouski, Viniarski and the detained activists will be replaced by hundreds of new leaders. Protests will continue. A change of power in Belarus is inevitable.
The courage and solidarity of Belarusians has many times helped liberate those, whom the dictator threw behind bars. This is how it should be now - in a crucial year for all of us.
We urge our compatriots both inside the country and abroad, all friends of a free Belarus to fight for the release of Siarhei Tikhanousky and all the arrested opposition leaders and activists.
Freedom to the heroes!