Leanid Sudalenka: No Paid Coronavirus Testing Available in Homel
25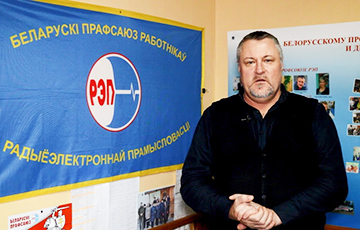 A well-known human rights activist faced the realities of Belarusian medicine during the epidemic.
"The last time my temperature rose about 10 years ago. During the last few days I had a temperature of 39 in the evening, during the day it was up to 37," wrote the legal inspector of the independent REP trade union Leanid Sudalenka on Facebook. Charter97.org has learned about the health state of the famous human rights activist:
- I feel quite bad. Last Saturday afternoon I felt bad. By the evening I already had a fever. I took antibiotics. I thought it was ARVI since everyone in my family had already made through it. Now I have fallen ill.
Since nothing has changed in three days, it means there are problems. I called a doctor because I had little desire to go to the polyclinic. A doctor wore PPE (personal protective equipment) and issued me a sick leave because I had a court hearing scheduled for Thursday and the secretary did not want to reschedule.
Then I asked about the situation with the coronavirus, and the physician offered me to address to the Ministry of Health. She signed a non-disclosure agreement.
Conditionally, if I had known I had coronavirus, I would have gone to the hospital. Since I don't have any symptoms, I went to the polyclinic yesterday and took a lung X-ray.
Everything is fine: my lungs are light, my breathing is clear, I don't cough. But some say there's a low probability of COVID-19 detection at the early stages.
The temperature's holding. I'll go to the physician on Friday. If the fever is not down, I'll have to go to the hospital and look for a reason.
I've been diagnosed with ARVI. As physicians say, even if coronavirus is confirmed, they will treat symptoms. They would still treat me as if I had pneumonia because there is no specific treatment for coronavirus yet.
It's hard to say where I could catch it because I've been in self-isolation with my child all March, April and May. I tried to avoid public places, not to use public transport. I was driving my car when I needed to go to court. I always wore a mask and had a hand sanitizer with me.
My wife was the first to get sick; she had to go to work. I guess she brought an infection.
- Did you take a COVID-19 test?
- When I wondered where I could take the test, the physician said that one could not take it in Homel even on a paying basis. They just don't exist yet. It would seem what it is just a drop of blood on some strip and one get's a result. I guess that COVID-19 tests are a problem for the state that has declared itself an "IT country".
Officially, I did not write an application for the chief physician demanding to provide me with a test. I guess if my fever is not down in a week, I'll do it.
In mid-May, they promised to launch nationwide testing but the state is not ready for it. On the other hand, statistics are more important for the state policy of "coronavirus psychosis in Drazdy" than people's health. As the physician says, everything will get sick, it's only a matter of time.
The Homel region is one of the last to face it. The events that happened primarily in the Vitsebsk region are now taking place in our region. Now the weather is changeable. It's the "best" weather for the spread of various infections, not only for coronavirus.
- They can do the test only if the person is in a critical condition, can't they?
- Yes, if I call an ambulance and they see that I have difficulties with breathing, I will be hospitalized then. They'll make CT of my lungs in the hospital. It will be 90% reliable. I stress that fluorography may not reveal any lesions at an early stage. Tests are not available. At best, they'll measure the oxygen in the blood. CT is the most reliable method. Again, one cannot take it until the hospitalization.
- Were you told to isolate yourself or take any measures to reduce contact?
- No. I came back from the polyclinic and fell asleep. I stayed at home all these days. Physicians didn't give me any instructions. They don't care how you behave.
I'm a responsible person, so I will stay at home. I had two scheduled hearings. Both postponed until June when I presented my sick leave to secretaries. It's better to stay at home. That is what I'm doing.
My colleague's wife has bilateral pneumonia. No coronavirus infection is confirmed. He is the first-level contact. But no one arrived to warn him.
- You went to the Homel polyclinic. Tell us about the situation. How many patients are there?
- I did not go inside. They say there are many people. They stay in the corridors. But these are just words.
At the entrance to the polyclinic, medical professionals in PPE measure temperature of visitors. Those with fever have a separate entrance. One can find hand sanitizers everywhere. The physicians I visited says hallways are being constantly disinfected. It smells specific there. One does not make you wear masks and gloves. There's a lot of people in the hallways. 15 or 30 people wait for their turn near each physician's room.
- Are there any legal mechanisms to receive proper diagnostics and treatment of coronavirus?
- There are no legal mechanisms because our country has not introduced any quarantine measures to operate, for example, under the law on the sanitary-epidemiological situation. We were told in March to wait until Easter. After Easter, we were told to wait until May 9. After May 9 "we will reach the plateau till the end of May". The next starting point is likely to be July 3.
It all depends on state policy line. No one will tell the truth when the health minister forced all medical professionals to sign non-disclosure agreements. They probably know the real situation.