Stanislau Shushkevich: Belarusians Should Unite And Take To Streets In Many Thousands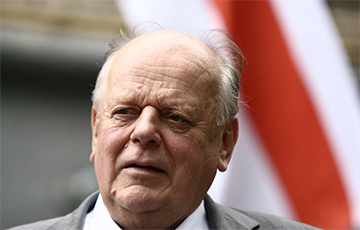 When we stop forgetting our dignity, our lives will improve!
The first head of the sovereign Belarus Stanislau Shushkevich frankly discussed the issues of the collapse of the USSR, denuclearization, impeachment of Lukashenka, holding elections in Belarus with Siarhei Tikhanouski on the channel "Country for Life" and answered the most pressing question: what should be changed to really live in the country for life?
Here is the summary of the interview:
- Today the officials have been selected: they are pleasers and flatterers. They can be moved from one position to another and nothing will change. Principles of democracy do not work in Belarus now. To change the economic system of the society, which depends on the political system, it is necessary that smart people come to power.
- It is necessary to give the Belarusians an opportunity to decide for themselves how to live, how to treat the guests. But we don't have it and we don't have the right to choose since 1996. There is no freedom without sacrifice. The country needs a hero.
- We need to unite, we need to take to the streets in many thousands and not once. We need to defeat fear. If there are many of us, fear will disappear. And then there will be a result. Disgusting things cannot get along with the consciousness of people for a long time.
- A historian who doesn't know that Francysk Skaryna couldn't walk around St. Petersburg cannot be a historian. There are not enough educated people in Belarus and that is why there is no intelligentsia. The "President" is an example of this.
- Besides, a lot of educated people left the country to work abroad. This is a personal choice of each person, but it is a big problem for the country.
- The USSR could not be saved any longer. It finally collapsed when the putsch took place on August 19, 1991. The country was no longer manageable and the empire collapsed. It was the result of various processes.
- It is very expensive and dangerous for a small state to have nuclear weapons. To give it up is the right decision. We received $59 million in compensation after that.
- We live 25 years in a forced Russification. The Russian world is being praised. Russia invests a lot of money in this. Belarus needs a state policy of revival of the Belarusian language.
- When we stop forgetting about our dignity, then our our lives will improve.