Leanid Zaika: It's High Time for Lukashenka and Putin to Retire
41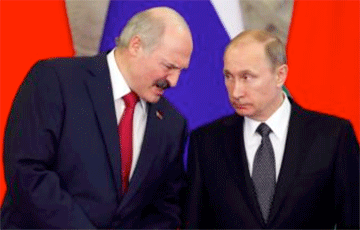 This generation has long "overmatured".
The Russian Kommersant has published an article that describes the plan for uniting the economies of Belarus and Russia. It is about a single Tax Code, foreign trade regime and the Civil Code, unified registration of property and similar social guarantees, almost unified banking supervision, but with two central banks, a single regulator of oil, gas and electricity markets and harmonized state regulation of industries.
Russian journalists said that it is almost a confederation.
Charter97.org together with the head of Strategy analytical center, economist Leanid Zaika assessed the potential threat of economic integration with Belarus and Russia.
- I believe that all this will simply fail. Besides, we haven't seen the original text of the agreement. Nobody knows if it is signed. The article of Kommersant is a traditional idea about the so-called Union State coming from the 90s. The classic scheme, which has already been discussed many times, is the synchronization of industrial, monetary, fiscal, customs and tax policies.
There are a lot of mistakes in this scheme: the customs policy is already synchronized within the EEU. It is a violation of all the rules and documents signed within the framework of the Customs Union to set new borders and invent new technologies. The second point is that Russia's tax policy is extremely ineffective, as the Russians themselves say. The only advantage is that they do not pay taxes. In Russia, taxes are paid by the weakest. That's why we just don't need their system.
Social policy, the Civil Code and everything else are just stamps. Since the text was not published for so long, it might be weak. If the text had been offered to the masses and specialists, there would have been great claims to the quality of work of government structures.
Technically, the text will be published and the people will start to warm up, the democrats will talk about anschluss and integration, while Lukashenka remains silent.
Now let's look at the situation from the outside. Two pensioners, one from the Kremlin and the other from Karl Marx Street, have instructed their prime ministers, one of them is a specialist in constitutional law (Prime Minister Dmitry Medvedev - ed.) and military financier (Prime Minister of Belarus Siarhei Rumas - ed.) to create some model of integration. They instructed their subordinates and got Tales from the Vienna Woods in the end.
Guys, practice on bunnies. Switch off roaming between the two countries. If you succeed, we can talk. If it fails, let's not do anything stupid. Second, synchronize the vehicle insurance system. Belarusian drives to Russia or visa versa, both of them need a special insurance policy. What are you talking about, what kind of synchronization?
Make it possible for Belarusians to get assistance in Russian hospitals. We do not have insurance, nobody let us attend in Russian hospitals. They can pump the stomachs, that's all.
They are weird, these Kremlin-Belarusian dreamers. They are not able to do simple things.
- If the document is still valid, is it a surrender of sovereignty?
- Tell me, do we have anything to surrender? Our nomenclature is using Russian oil, Russian gas, crying about the tax manoeuvre of the Russian Federation. Belarus depends on Russia. All the rest is a formality.
- Should we assume that such close integration will bring Russian oligarchs to Belarus?
- Of course, will they look at these idiots, who have been idle here for 30 years?! They will start dividing the property.
- If economic integration happens, will the political one follow?
- It may happen. But I hope that the Belarusians will be wise and strong enough to resist.
Besides, let's not listen to Rumas, Oreshkin, world-famous theorists. They are far from being nominated for the Nobel Prize in Economics.
The so-called Rumas formula "two states - one market" is a repetition of the Chinese formula "two countries - one state". And where will all these Oreshkins be in three years? Where will Rumas be in three years?
I urge you to help pensioners Putin and Lukashenka, who are throwing dust, to retire.
Guys, it's time for you to retire. Rumas should retire as well. Oreshkin should be appointed as Russia's ambassador to Zanzibar. This generation has already overmatured. We need new people in power.