Lukashenka In Iuye: I Don't Know If I'm Gonna Fight You On Tomatoes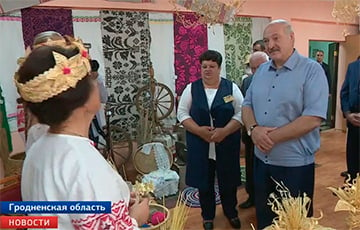 In Iuye, the dictator promised to come to the tomato fest.
During his working trip to Iuye region, Lukashenka met with locals, told them what he had heard about the local tomato festival and even promised to come specifically to it, tut.by reported with reference to Belarus 1.
The ruler visited the local cultural center in Iuye, where he was shown a small fragment of the play "No one will believe it" based on a fairy tale by Jan Eckholm. Aliaksandr Lukashenka advised young actors to enroll in the Academy of Arts. All the artists were presented with the chocolate bar "President" on his behalf. Afterwards, Lukashenka visited the exhibition of folk art masters and talked to the residents of the city.
The dictator noted that during his trip to Hrodna region he wanted to visit Iuye. He was pleasantly surprised by the development of the settlement and also mentioned the tomato festival, which recently took place in the city.
- ...It turns out that you have survived the invasion of the harvesting campaign, you have had "Dozhynki", and after that you still have such a center and town. You're good, I see (more on TV), that you' re already copying the Spaniards: killing tomatoes. I saw that and felt sorry, I'm a village man, so I felt pity for tomatoes. And you throw them at each other here, trample them - but probably the harvest is good. I promised I would come, but I don't know if I will fight with you on these tomatoes, but maybe I will come to see it.