Ministry Of Defense: Fireworks For July 3 Are "New Product", But "Used Before"
10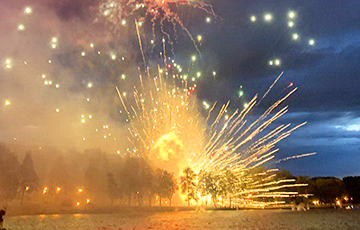 One of the agency's versions regarding the tragedy contradicts the other.
The report of the Ministry of Defense after the incident in Minsk on July 3, which resulted in the death of a woman and injury of several people, contradicts what was said before the parade, Radio Svaboda reports.
As the Ministry of Defense reported in Telegram on the night after the fireworks incident, "it is established that the fireworks charges of this batch have already been used before."
But the day before the parade, the commander of the patrol company of the commandant's battalion, Aliaksei Kruhlik, claimed on the website of the state agency Minsknews: "This time we will use new fireworks that have not been shown before."
These two reports may not contradict each other if such charges have been used in fireworks in other countries or by other Belarusian agencies. But the second report does not contain such clarifications.
Neither the Ministry of Defense, nor the Investigative Committee voiced details of the incident (it was just mentioned that people were injured during the fireworks). They did not mention previous versions of the incident as well. The Ministry of Internal Affairs and the Ministry of Emergency Situations did not report anything about the incident on the morning of July 4.