Raman Kisliak: Brest Residents Won't Be Stopped
17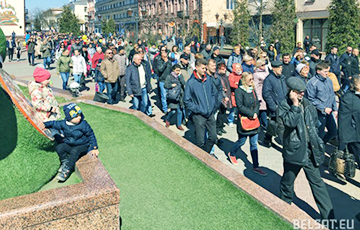 Yesterday's rally was a "cold shower" for the authorities.
On April 14, the traditional feeding of pigeons in the central square ended with a mass rally and procession in which more than 500 people took part.
Ales Abliak was the leader of the protest yesterday. He called not only to stop construction of the plant, but also to return the crosses to Kurapaty, Belsat reports.
The crowd of protesters surrounded Ales Abliak to counter his arrest.
Opponents of the battery factory went through the pedestrian Savetskaya street, chanting "Say No to the Factory!"
To thwart the protest, the authorities of the city organized in the central square a review competition among students of cadet and military-patriotic classes of Brest, attended by several hundred people.
– The authorities decided to get tough on us and started serious repressions, detaining the most active protesters, but the line has already been passed, it will not stop people, they will insist on closing this plant, – human rights activist Raman Kisliak told Belsat.