Ales Krutkin: I Was Convinced Once Again That Most Belarusians Hate Lukashenka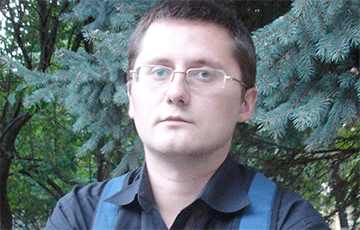 The blogger has shared a story about the latest experience.
Activist and video blogger Ales Krutkin was arrested on November 28 during a visit to the Polatsk district police department, where he was invited to return items previously confiscated. Thus, the authorities tried to avenge the activist for participating in the "election campaign", and criticism. Ales Krutkin spent 15 days in a temporary detention center and immediately after his release he answered our questions.
- Earlier, you were repeatedly detained; you served administrative arrest in Minsk. What is different about the conditions of detention in the Polatsk temporary detention center?
- For the entire time of my arrest, I was in three cells. The first was designed for eight inmates, but there were 11 to 13 people. Of course, there was not enough space. Later I was transferred to a four-inmate cell.
With EU money, the detention center was repaired, but apparently, most of the allocated funds were simply stolen. The sewerage did not work, periodically there was no water in taps. Cellmates said they were trying to save in this way. At the same time, the radio was constantly working and the light was on. There were no walks at all. The books were not passed, there were only those that remained from previous prisoners. This is mainly American detective stories, or literature from the time of the Soviet Union, all old books.
The attitude to the prisoners was what we call neglect. A woman in the next cell had a delirium tremens. A doctor came, gave her an injection, but it did not help, it only got worse. It turns out that this person suffered, along with those who were in the cell with her. They had to take the woman to the hospital, but they did not.
- What kind of people were with you in the cell?
- Most of them were the people detained for petty theft, for example, food products from stores. It is clear that they did not steal out of a good life. They simply had nothing to eat. There were those who were detained during a regular round-up for being drunk in a public place. There were a lot of people under investigation, because there is no pre-trial detention center in Polatsk.
- What were you talking about?
- Of course, about politics, about life. I can say with confidence that 99% are dissatisfied with the current government. Given the specifics of the place I was in, there was a lot of talk about the prison system and its shortcomings. For example, while serving a prison term in Belarus, working in the penal zone is not included into the insurance period, so it is difficult for many to receive a social pension. It turns out that no one wants to hire a person after serving time in prison, and there is no pension either. How to live? What to do? People are forced to seek income by not quite legal methods. They simply have no other choice. Many become homeless.
The cellmates were very surprised that you can get arrested for a repost. This caused an even more negative reaction in relation to the authorities in people. When they found out that the head of the police department personally forbade parcels for me, they respected me even more. They handed tea and cigarettes even from neighboring cells, and the whole prison congratulated me on my birthday. In fact, political prisoners are a rarity for the Polatsk temporary detention center, there have not been such here for a long time.
Many, having learned that I have a YouTube channel, asked me to write and tell about their problems. I have listed some of them above, but there is still much to add. The police lawlessness, when at the end of the month raids are organized in the city center to implement the plan, and the arrogance of officials. The corruption of the local authorities, there were stories about a couple of issues in the video blog. Also the problems common for all: unemployment, leaving for Russia to work, and corruption of the authorities. I'm not sure that I can describe this barrage of human problems, even purely physically, in time.
- Did you communicate with the guards?
- They were all really young guys. I will not say that they treated me badly, they simply did not maintain contact at all. Apparently they were told who I was, and these people were afraid to lose their jobs, and avoided any communication with me. The only thing they did is ratting out their boss - they confirmed no parcels for me would be allowed, under his personal order. And then, they just checked the cell, brought food and that's it. There are video cameras everywhere, they were just afraid to talk.
- Did they explain to you why on the day of liberation they took you to the outskirts of Polatsk?
- To prevent riots at the walls of the police department (laughs). They were very surprised that so many people had gathered. My people also arranged a firework for my birthday. This is unusual for Polatsk - there was silence here even during the "parasitic protests". Let them get used to it.
I would like to thank everyone who were worried, who were waiting and writing, for the support. It was palpable even behind bars. And the best gift was the action, which took place on the day when I turned 30 years old, in Minsk.