Nadzeya Hatsak Elected New Chairman Of Young Christian Democrats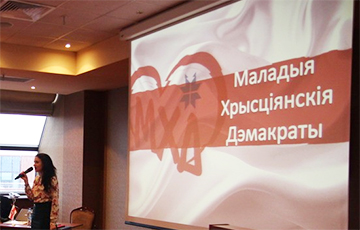 During the congress, a new composition of the YCD Council was elected as well.
On October 12th, the congress of the organizing committee of the Young Christian Democrats public organization took place near Minsk. Co-chairmen of the Belarusian Christian Democracy Volha Kavalkova, Vital Rymasheuski and Pavel Seviarynets made welcoming speeches before the participants, bchd.info reports.
Representatives of the partner organization, the Youth of the Christian People's Party of Norway (KrFU), delivered their welcoming addresses as well.
During the congress, Maryna Khomich, who had been chairing the MCD since December 2011, announced that she would resign as chairperson. Nadzeya Hatsak was elected the new chairman of the organizing committee, with Maryna Khomich and Yauhen Dudkin elected as her deputies.
Nadzeya Hatsak is 32 years old. She graduated from the History Department of BSU. As a photojournalist she cooperated with a number of Belarusian independent media. Married, mother of three children. Catholic believer.
The congress also elected a new composition of the YCD Council. It was decided to develop an updated version of the program before the next congress, to make amendments to the charter of the organizing committee, as well as to update the strategic goals and objectives for the coming years.
Also, decisions and appeals were made regarding the presidential campaign in 2020, the 2019 census and the environmental situation in Belarus.
The most important YCD campaign in the coming years will be focused on amending the new Education Code, the start of which was also made at the congress.
The event ended with a festive concert.